dba Coffee and Canvas™
Coffee and Canvas is a family-friendly, home-based art studio, not a chain, although Coffee and Canvas ™ is trademarked. We cater to artsy-fartsy folks who are 21 and younger, those who are young at heart, or anyone wishing an alcohol-free (or highly caffeinated) painting experience!
Though Laura Bird Miller, owner, teaches ongoing after-school art classes out of her home studio in Longwood, FL during the school year and offers amazing summer camps for students ages 6-16, she also offers mobile "social" artworking events by reservation where you can pick your own date, time, location, and painting or creative project for your event. Laura is happy to come to your home, business, church hall, etc., with a 6-person minimum.  For large groups, she can bring easels, brushes, and supplies for up to 30 people.  There is no extra charge for Laura to come to you unless it is outside of her usual 20-mile travel radius.
Exciting news!  We now also have two venues for parties for you to choose from if you prefer not to have your party at your home:
 Zanzibar Coffee House @ 315 N. Ronald Reagan, Longwood, FL (off of Ronald Reagan and 434) 
Brownierie Cafe – Coffee, Lunch, and Desserts in Winter Park, FL  110 S. Orlando Ave, Suite 4 (17/92 and Morse, across from Trader Joes.)
Please text or call Laura at (407)416-2594 to reserve your party at these locations at least 2 weeks in advance.  
Adults and children are also welcome to come to Laura's home studio in Longwood, FL, by reservation (at a time we both agree upon) with a small group of 2-6 people (adults, children or combination) or less with a 2-person minimum.
In choosing the painting for your session, simply go to our "Painting Choices" page/tab on the website.
Call or text Laura at (407)416-2594 to set up the date and time you are thinking of for your party and we can determine a time that works for everyone!
Laura also gives weekly after-school art classes to children and adults during the school year at her home studio.  Her heart is to inspire budding artists in the following media:  pottery/ceramics, drawing and painting in oils, watercolors and acrylics.
 Come join the learning and the fun!
The sample painting gallery is HERE.  But if you'd like to see Laura's professional work and bio, Click here for Laura's Bio, Artist's Statement & Professional Works to see more about who in the world Laura Bird Miller is!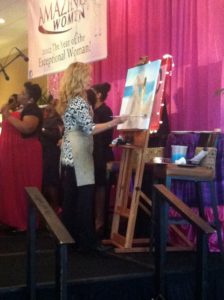 ---
Visit Coffee and Canvas and discover your inner artist!