Best way to contact me is to

text (407) 416-2594

– most of the time my hands are in clay or paint  🙂
Weekly After-school Art Classes,  Monthly Workshops, Mobile (or in my home studio) P
art

ies for Children and Adults Young at Heart!
Art

makes a p

art

y.
   

Children's Parties
Option #1:
Small party (6-9 children) @ my home studio 260 Spring Run Circle Longwood FL 32779 = $149 for 6 children, each additional to 9 total is $17 each. Small parties are available at my location only. 🙂
Option #2:  
Large party of 10+ children (or mobile party @ your location or home)  = $199 for up to 10 children, each additional is $17. I bring the set up and all materials to YOU plus step by step instruction and/or pre-sketched canvases to help even the most timid artist feel comfortable. 
Birthday Parties
Girl Scouts/Boy Scouts
Homeschool or co-op groups
Dance Teams
Fall/Winter/Spring Break Activities
Holiday Events
After-school Fun
Party includes instruction, canvas, use of easels, brushes, aprons, table covers, floor tarps, children's ceramics pieces to glaze, all glazes, paints, firings, and delivery of pieces back to your home or party location.  If you choose to make your own pottery, it includes our earthenware clay plus instruction for hand building your own pottery piece plus underglazes, first firing, and delivery.  (Second firing, folding tables, chairs, tent and lighting available upon request for an additional fee.)

Adult Parties 
(Starting September 1, 2016.  Laura brings her passion for art to YOU!
Ladies Nights
Couple's Nights
Church Groups
Sorority Parties
Team Building
Work Events
Girls' Night Out
Bachelorette Parties
Baby showers
Book Clubs
Bible study groups, etc.
With our mobile art pARTies, we transform any space into a pARTystudio and all you need to do is, invite the guests, and provide light refreshments if desired.  We bring our Organo Gold coffee samples you can share or save for later and reward our hostesses generously with a free gift or free class depending on how many guests you have! 95% of those who book a party are not artists by trade, but want to just experience the joy of painting on canvas or ceramics or the fascination of wet clay in their hands and have a few laughs in the process! We guide you step by step.  We will bring the canvas, easels, palettes, brushes, paint, aprons, table covers, (floor tarps if needed) and everything that is needed for you and your guests to create and have a fun filled stress free pARTy! It Includes instruction, canvas or clay for your project, all supplies for one 2-hour session. Painters go home with a completed canvas in acrylics or watercolors. Choose the painting for your group from our painting gallery or send us a photo so we can design a custom one for you free of charge. We also have many ceramics pieces to choose from your guests would love to paint and will bring all supplies to paint/glaze your ceramics.  Another option is to build your pottery from scratch with our earthenware clay, instruction and firings included. FREE delivery back to your party location after firing.  Please note the free delivery is for a 10-mile radius; $3/mile additional charge past 10 miles. (Folding tables, chairs, tent and lighting available upon request for an additional fee.) Cost: 6-9 adults $30 each (plus tax.)  10-19 adults $25 each (plus tax.)  20-29 adults $19.99 plus tax.  30+ adults $17.99 plus tax.  Hostess receives a free gift or a free class (depending on the number of people) as a token of our sincere appreciation!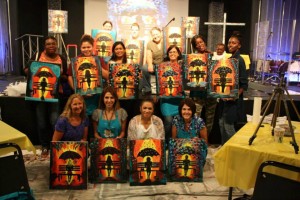 See painting gallery to choose your canvas painting or see ceramics gallery to choose your pottery-painting project. 
Book Laura for your party or gathering at your location by calling or texting (407)416-2594 for more information and to inquire about a date/time that works for both of us!  
Art

from the he

art